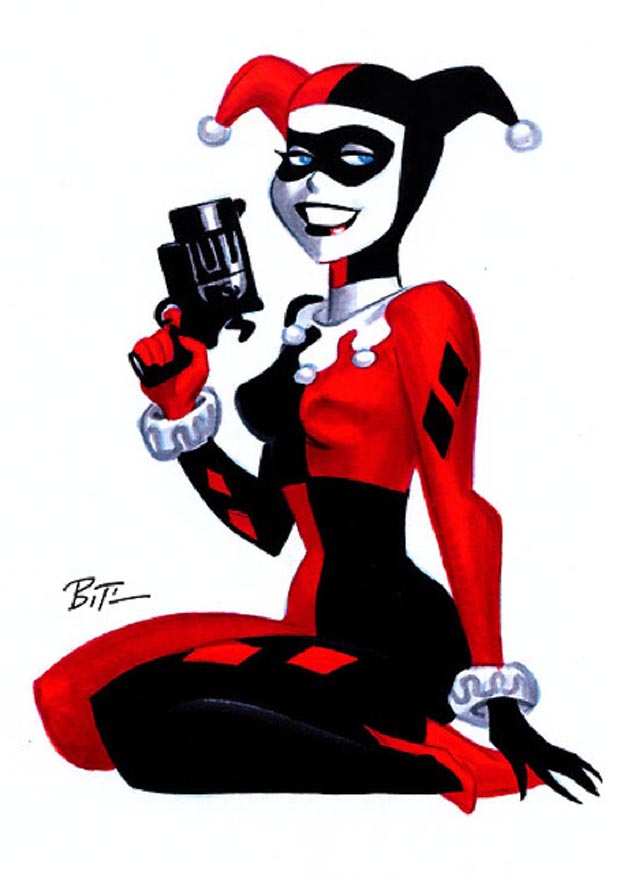 Way back in April I got the idea to be Harley Quinn for Halloween this year. For those of you who don't know who that is, she's the Joker's
girlfriend
in the old Batman Cartoons from when I was a kid.
Now, I absolutely love her, and I really loved the idea of her, but I did not want to wear a full on jumper suit, like she does in the cartoons.
I googled some costume ideas of her, and saw some pre-made costumes that were really ugly. But they did give me some ideas.
I started looking at cheap little black dresses to sew motley onto. I was also on the lookout for red and purple thigh high socks. I saw some awesome tights, but I didn't want my legs to be the same color. They needed to be different.
I'm glad I didn't actually start making my costume until October.
I had found an awesome blog entry (on Pinterest, of course!) for making duct tape boots.
You can find the original
here
.
Now, the original site talks about making them for children, and so there are few amends I need to add for making adult sized...
I used ballet flats. I had some from when I took a ballet class in college and, to be honest, when am I ever going to wear them again except for costumes? I also used a tube sock like suggested.
[Adult problem #1: Tube socks on kids don't stretch to their max. Tube socks on adult calves are stretched out. I'll come back to this issue later...]
I bought a roll of purple duct tape and a roll of red duct tape. I used an entire roll for each leg. So if you are doing the same color, you'll still need two rolls.
I also used cardboard instead of interfacing for the cuff. I wanted my cuffs backwards, too. Super hero boots look different than musketeer boots.
I also wanted to cut mine down the back, for the same reason.
Ok, so wrapping your leg like you would for a sport injury -- check! That was the easy part. Making sure the bottom of the foot was thick and the toes didn't look ugly was the hard part.
Cutting the boots off. The website suggests surgical scissors, and I do too. I used children's safety scissors, the kind with the rounded tips? Yea... very glad I did. I was very afraid of cutting my own calf. I also suggest having someone else help you cut them off. My line was not straight at all. And I didn't want to cut the ballet flat. So getting it off my foot was very very hard [Adult issue #2].
I made these about a week before I needed to wear my costume. [this is where Adult issue #1 comes into play] By the time I went to put them back on, the tube sock had un-stretched and peeled off the duct tape. The duct tape had folded and stuck to itself. No bueno. I'd suggest adding a layer of duct tape inside, if you plan to use the boots more than once. Or to make them the day you need to use them.
Next, you're supposed to add grommets to put the laces into. Since I figured these were one-use boots, I chose not to waste my money on grommets. I encountered some problems.
- The grommets probably would have held the socks in place so they may not have un-stretched, causing the issue above.
- The ribbon I used for lacing stuck to the inside of the holes
- My hand really hurt after using my one-hole punch that many times. Also, my hole punch got very sticky. This may affect future crafting.
- The duct tape broke at the holes.
I'd suggest buying the grommets. They aren't that expensive. And Walmart sells grommet punchers for about $12.
October is the month of the Renaissance Faire in NorCal. My mom was making a new corset. I saw the pattern and got another idea. I'd make Harley's motley in corset style! Buying cheap colored broadcloth is easy. So is sewing. (at least for me). I believe the pattern was a Simplicity one. I finished the corset in about two half-days (one for buying and cutting, one for sewing, edging, and grommetting). I didn't add boning, but I did add some details such as diamonds in different colors. I also surged the edges of things, to make it look messy. I cut extra diamonds to pin onto my black leggings and shirt.
My costume was a success! I wore it twice. The first time I wore a tank top under the vest, as well as leggings and a black skirt, plus the boots. This was for a party.
The second time I wore it was for work, so I wore it with a long sleeve black shirt and black dress pants tucked into the "boots". I cut off the feet of the boots and used them more like shin-guards, tucked into black boots.
And of course, this costume would not be complete without the makeup.
I didn't want to wear a motley hat, or to dye my hair blonde, but I did put it into pig tails.
I didn't get any full-body pictures to show the boots with the costume. But here are some more.
Nicole as The Doctor!
What's a party without TWO Batman super villains?!
(Isaac as the Scarecrow!)